✨ Electro Changelog
Update 7.2 - Jan 2020
New: Support Multilingual with ATranslate app
New: Auto change layout RTL / LTR according to language translate
Improved: Fix bugs
Update 7.1
Update 7.0 - Oct 7th, 2020
New cutting edge layouts with flyout mega menu!
| Home V8 | Home V9 |
| --- | --- |
| | |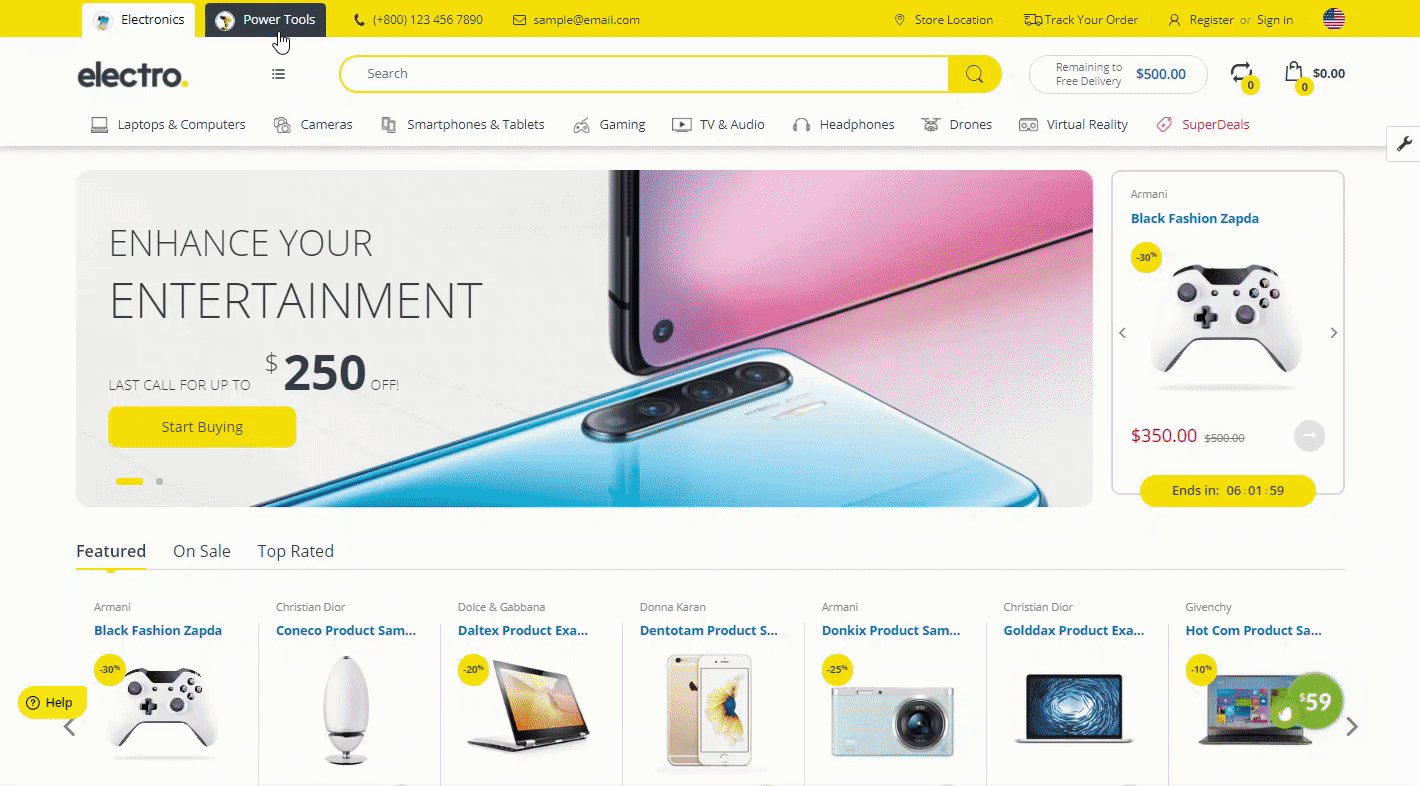 Now with auto RTL layout switch with language change on Weglot!
Improved: Fixed Electro 6.0 bugs.
Update 6.0 - May 7th, 2020
New: Shopify Multi-currency support Shopify Payment Checkout.
New: Support Loox - Reviews apps.
New: Support Growave - Reviews, Loyalty ++ App with 30 days trial extended offer.
New: Unique sub-collection & collection sidebar by metafield. How it work?
New: Update Jquery 3.5
New: Free Wishlist & Compare app compatible with Chrome 80+
Improved: Instant layout change with Theme Options.
Improved: Website speed.
Improved: RTL layout, support auto-switch base on location.
Fixed: Bugs related to currency, languages,…
Remove integration code Judge.me product reviews code.
Update 5.0 - July 4th, 2019
Improved performance for large inventory stores.
Layout: RTL.
Integration apps: Judgeme, Searchise, Weglot js.
Mega Navigation improved with accept add multi Vertical Tab.
Update 4.1 – Nov 11th, 2018
New Unlimited Mega Menu with new type: Vertical tab.
Improved Mobile UX for Mega Menu
Update 4.0 – Sept 18th, 2018
Major update: Update full sections pages control panel
Replace CartJS by Line item API to adapt other Shopify apps
Add more function as description
Upgrade Bootstrap 3 to Bootstrap 4
Update 3.0
Add 2 more homepage styles
Enhance Design Home 1,2,3
Fix some bugs
Update 2.0
Support Shopify Section
Fix bugs: Wishlist, Compare
Version 1.2 - Sept 28th, 2016
Feature update:
Version 1.1 - June 28th, 2016
Feature update:
4 styles Grid/List : Grid, Grid Extended, List, List Small
Update json language file
Fix bug config color settings
Cart page: UpSell Products
Product page: Multi tab
Free shipping bar app.
Version 1.0