Electro Homepage Section
Slideshow V1
This chapter refers to the following section of the theme admin panel:
Online Stores > Themes > Electro Theme > Customize > Sections > Add Section > Slideshow V1
Slideshow under Verticle Mega Menu
Layout
Auto Slides: Configure to show auto slideshow switch

Auto rotate between slides: Enable auto swith slide
Change slides every: configure time switch
Slideshow Animation: Switch slide animation effect
TIP
Click Save top reload page when see crash
Navigator & block three images

You may select image block at style 1 (with Padding) & style 2 (without padding)
Add Slideshow
Click Add Content and select slide type:
Slideshow - Image

Background image on desktop
Background image on mobile
Position a background-image
Slideshow link to: setting link to connect when click to the slideshow background image
Image layout
Text box layout & style

Slideshow - Video

In order to embed video from Youtube please select option:

Embed video and insert your Youtube embed code into Video url

If you would like to run video player Go to Settings > Files > click Upload files and upload your video (major video file types such as .mp4 and .mov), then copy the url and paste to Video url
WARNING
You can't upload video files when you're on a trial membership Shopify. In order to upload video file you may try our Developer Store with free to upload. Register here: Each file needs to be smaller than 20 MB to upload to Shopify.
Slideshow V2
This chapter refers to the following section of the theme admin panel:
Online Stores > Themes > Electro Theme > Customize > Sections > Add Section > Slideshow V2
Similar to Slideshow V1, you may configure the options following: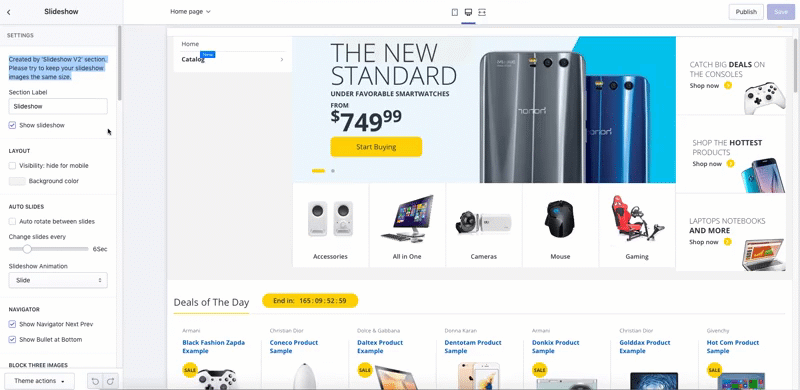 Image Gallery V1
This chapter refers to the following section of the theme admin panel:
Online Stores > Themes > Electro Theme > Customize > Sections > Add Section > Image Gallery V1